Good News from "The Nest":
Do you remember Nuhu?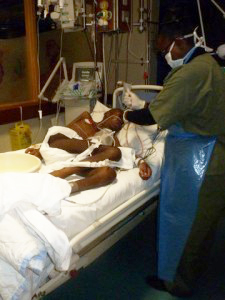 The 12 year old boy was severely malnourished included in Nairobi last November on an emergency basis by our partner institution, the orphanage THE NEST, in Nairobi last November. Nuhu could not speak properly, as was first abandoned child 2 years ago from the Youth Welfare Office in a remand prison (!) Delivered. Officially it is not allowed to put children in prison and the Youth Welfare Office would already need to find a place in a home for him. In prison, they had extremely neglected him until he was totally malnourished and gravely ill.
It was suspected Mengingitis: Nuhu was suffering from high fever and seizures as well as deep open saggy areas on the hipbone. There were a bleeding head wound and swollen hands (which may have been caused by blows). And to make matters worse, there is also evidence of a rape. Furthermore, he was completely neglected and helpless. Nuhu is tested HIV-negative yet. This are good news, but the test should be repeated in 3 months, because of the rape suspicion.
From the hospital, he was sent overnight to the orphanage "The Nest". Now we have received the following good news:
In October 2014, we received Nuhu into The NEST Home. He was still very weak, however with much improvement after hospitalization. He was 26Kg by then. Nuhu couldn't walk or even feed by himself. The Caretakers of the Home were tasked with helping him in these activities. He was carried outside and back into the dorm like a baby!
Since Nuhu couldn't support himself, he had a challenge of staying at his chair as the other children played around. You could see from his face how he longed to play like everybody else. The Caretakers could only support him and help him walk about as an exercise.

Nuhu, having been severely malnourished, needed meals after every short interval. We therefore had a special diet for him. Again one was supposed to be careful lest Nuhu would overfeed. He always wanted more and more.
Nuhu continued with his Tuberculosis clinics which we sought at a hospital near the Home. To treat the sores on his side, we had to take him to another special hospital where he was booked for surgery. The surgeon was tasked with removing hard stuff from the sores as they healed. This was yet another pain which the boy would bear. Think of the pain during washing.
Step by step Nuhu joined the other children in their play activities. He would slowly walk about, ride on the tri-cycle with support, and nod his head softly to tune as the other children sang. He was even able to feed himself at last.
We gladly report that this boy has healed. He can run, dance, jump, kick a ball, push a trolley, ride on the tri-cycle by himself, and wash himself! The list of activities is longer than the one above.
Nuhu is finally a happy boy! He recorded a weight of 37Kg at the end of June 2015. That is a very great improvement even as noted by the practitioner at his Tuberculosis clinic. The big issue as at now is speech; the problem occasioned by his former surgery on cleft palate. We are seeking for intervention from specialised people in various hospitals, but we haven't gotten a concrete help. We are also on with investigation and search for Nuhu's family, and relatives.
Big thanks to all the donors who have made sure Nuhu's hospital bills are met! God bless you ever!
We concur with this Thanks wishes! Many thanks to all donors, you have allowed this incredible progress and a positive look at the future for the boy!