Tijani Fauzan
Age: 15 years / male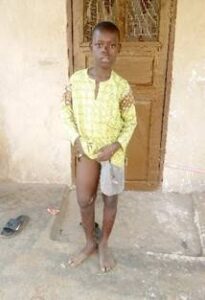 Medical diagnosis:
Acute osteomylitis on the right leg.
Tijani Fauzan is suffering from Osteomyelitis as described by the medical practitioners. He is 15 years of age and is in school. But his condition does not allow him to be active in school due to that, he is still in primary 3 when his colleages are far gone.
According the Doctor, X-Ray revealed that the leg had been fractured some time ago and was poorly fixed by traditional herbal practitioners. It also reveals that the tissues are almost dead. Surgery is to prevent the developing complication.
Tijanis mother therefore plead on behalf of her son for support to come to his aid.
Total Cost: 7,760.50 GHS / 1,111.82 Euro
Hospital: Al-Shifaa Hospital Limited, Tamale, Ghana